An easy, comfy vegetarian dish with creamy, buttery polenta topped with ratatouille-style balsamic and herb-roasted vegetables.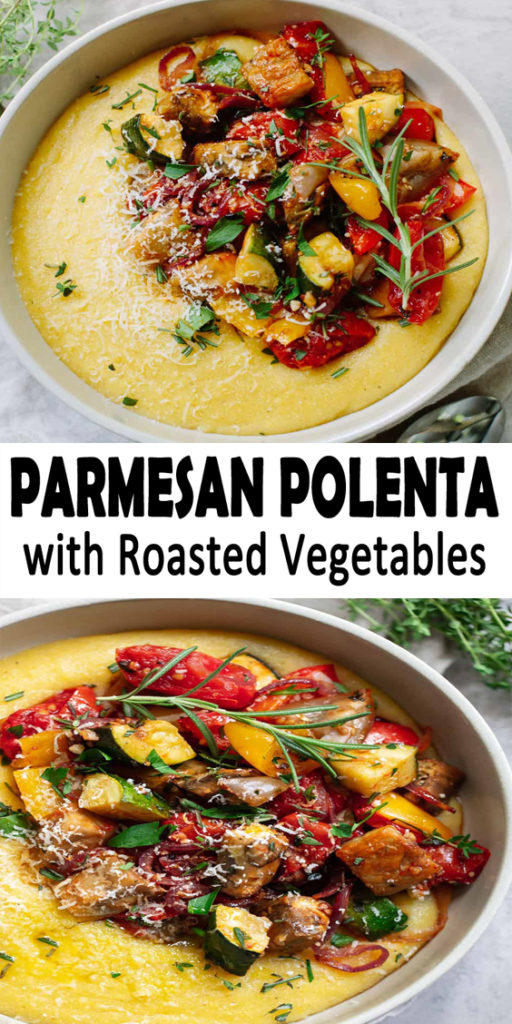 Make this comfy, just tasty Parmesan polenta topped with colorful roasted ratatouille-style Mediterranean veggies when you desire a one bowl vegetarian meal.
This simple vegetarian dish is essentially the very tasty bowl of porridge you are able to eat for supper.
When I make polenta, I love to be generous with all the butter and parmesan cheese. It is a great neutral canvas for creamy and cheesy additions.
Leftover polenta can be easily Reheated:
In a saucepan, combine 2-3 tbsp liquid for every 1 cup of polenta. Liquid can be cream, milk, broth or a mix.
Stir to break-up the clumps, cover the pan and cook on low heat for 5 minutes, stirring once or twice.
Then add extra cheese, butter, pepper and salt to taste.
Parmesan Polenta with Roasted Vegetables
An easy, comfy vegetarian dish with creamy, buttery polenta topped with ratatouille-style balsamic and herb-roasted vegetables.
Ingredients
1

small eggplant

cut into 1-inch cubes (1-½ cups)

2

bell peppers in assorted colors

chopped into ½-inch pieces

3

small or 2 medium-sized zucchini

cut into 1-inch chunks

1

pint

grape or cherry tomatoes

halved

1

tbsp

balsamic vinegar

4

tbsp

butter

Kosher salt

½

tsp

crushed red chili flakes

1

cup

coarse cornmeal

2

tbsp

extra-virgin olive oil

2

tsp

chopped fresh thyme or rosemary

½

red onion

thinly sliced

1-2

tsp

salt

½

cup

grated fresh Parmesan cheese

2

garlic cloves

finely chopped
Instructions
Preheat the oven to 425°. Then combine tomatoes, onion, peppers, zucchini, eggplant, olive oil and ½ tsp salt onto a large rimmed baking-sheet.

Roast till starting to soften and turn brown for 20-25 minutes and remove the pan from the oven and stir in the garlic, thyme, balsamic vinegar and chili.

Meanwhile, bring 4 cups of water to a boil in a sauce pan and stir in 1 tsp salt. Gradually sprinkle the polenta to the pan whilst whisking at the exact same moment.

Turn heat to a very-low-simmer, cover and continue to cook the polenta for 25 – 30 minutes, till it is thick, fluffy and starts to pull out of the sides of the pan.

Stir occasionally so it does not stick to the base of the pan. When it is done remove from the heat and stir in the cheese, butter and extra salt to taste if necessary.

Serve the hot polenta in bowls with the roasted vegetables and their juices on top and sprinkle with additional cheese if you prefer.
Notes
Pick your heaviest saucepan or enameled cast iron kettle and then turn heat to low for the best results with minimum stirring.
Please, if you recreate this Parmesan Polenta with Roasted Vegetables Recipe, don't forget to give me STAR RATE (★★★★★) or comment below. Thanks!
Try these Delicious Recipes options: