Teriyaki Cauliflower Power Bowls this is easily and vegan made gluten-free to get a nutrient, healthy billed meal full of fiber and protein.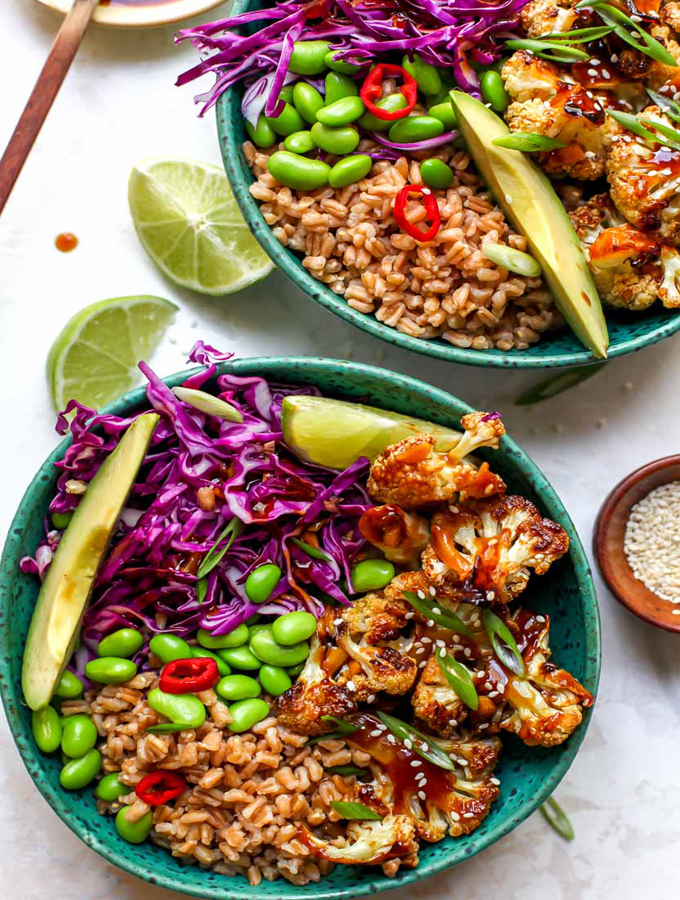 These bowls assess every nutritional supplement box (plant-based protein, whole-grains, healthy fats and fiber) to make a easy weeknight dinner or healthier make-ahead lunch.
They're fully-loaded with taste. Magic combination roasted cauliflower, homemade teriyaki-sauce, whole-grains and edamame. This lineup is going to keep you fueled and full, without sacrificing taste.
How to make Cauliflower in the Oven?
To attain florets which are crisp on the outside and buttery on the inside, it is about high-heat. I have discovered 425°F to be the magical number for florets which are rich & nutty in flavor with a meaty texture.
Its also important to create the cauliflower has lots of breathing-room on the skillet. In the event the florets are overly crowded, they'll steam instead of brown.
For this particular recipe, the florets basted with teriyaki sauce through the last 8-10minutes of roasting to assist them caramelize. Trust me, you do not wish to bypass this step.
For the other ingredients of this bowl, I really like mixing a mixture of cooked and raw ingredients for texture assortment. But if you are not fond of shredded cabbage, then don't hesitate to utilize another vegetable. By way of instance, sliced bok choy, romaine, kale, or broccoli slaw are appropriate stand-ins.
I hope you enjoy and thanks a lot for reading. Want to browse all of my recipe posts? Follow my Pinterest.
Please, if you recreate this Teriyaki Cauliflower Power Bowls Recipe, don't forget to give me star rate or comment below. Thanks!
Try these other Delicious Recipes options: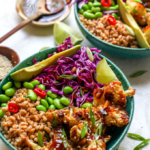 Print Recipe
Teriyaki Cauliflower Power Bowls
Teriyaki Cauliflower Power Bowls this is easily and vegan made gluten-free to get a nutrient, healthy billed meal full of fiber and protein.
Ingredients
1

tbsp

cornstarch

2

tbsp

rice-vinegar

1

medium head-cauliflower, chopped into florets

2

cups

cooked farro or brown-rice

1

cup

frozen and thawed shelled edamame

1

tbsp

minced fresh-garlic

2

cups

shredded red-cabbage

2

tbsp

brown-sugar

⅓

cup

thinly sliced green-onion

2

tbsp

hoisin-sauce

¼

cup

lower-sodium tamari or soy-sauce

2

tbsp

extra-virgin olive-oil

½

tsp

kosher-salt

½

cup

water
Optional Topping
toasted sesame-seeds

sliced fresno-chiles

sliced avocado

lime-juice
Instructions
Preheat oven to 425°F. Then toss cauliflower-florets with salt and oil then spread evenly onto a baking-sheet. Bake for half a hour and toss once after 20minutes.

Put cornstarch and ½ cup water in a small-bowl and whisk to blend. Put aside.

Heat tamari or soy-sauce, garlic, brown-sugar, hoisin and rice-vinegar in a small-saucepan over moderate heat. Cook till sugar melts roughly 1-2minutes, stirring frequently.

Add the cornstarch mix & bring sauce to a boil, whisking often to prevent scorching on the bottom of pan. Reduce medium-low & simmer till sauce is both viscous about 2-3minutes. Remove from heat.

Remove cauliflower from oven & brush with half teriyaki-sauce. Put back into the oven and bake till cauliflower is caramelized roughly 7-10minutes.

To prepare bowls, then split teriyaki-cauliflower, farro or brown-rice, edamame and red-cabbage evenly between all four bowls.

Spoon remaining teriyaki-sauce evenly over bowls & top with sliced green-onion. Add extra garnishes of selection (toasted sesame-seeds, avocado, etc) if desired.
PIN IT FOR LATER!